2023 New Solid Wood Bathroom Furniture
---
In the ever-evolving world of interior design, 2023 has witnessed a remarkable resurgence in the appreciation for natural elements and sustainable materials. Among these trends, the allure of solid wood bathroom furniture stands out as a timeless and eco-friendly choice. With its inherent elegance, durability, and ability to create a warm ambiance, solid wood has reclaimed its throne as a favored material for crafting stunning bathroom fixtures. In this article, we will delve into the captivating world of 2023's newest solid wood bathroom furniture, exploring its benefits, design styles, and how it can effortlessly transform your bathroom into a spa-like sanctuary.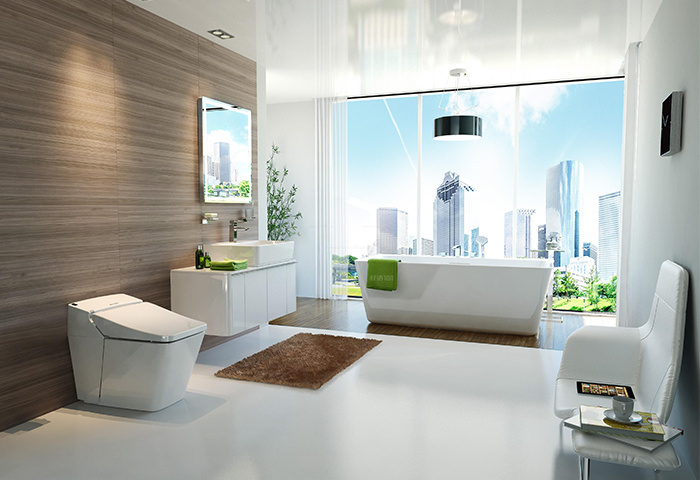 The Resurgence of Solid Wood: A Sustainable Statement
The year 2023 has seen an increased emphasis on sustainable living, and this ethos has permeated the interior design world as well. Solid wood, known for its eco-friendliness and renewability, has taken center stage in bathroom furniture choices. Designers and homeowners alike are turning to solid wood vanities, cabinets, and shelves, appreciating not only their aesthetic appeal but also their low environmental impact. By choosing solid wood bathroom furniture, you embrace a greener lifestyle while adding an organic touch to your living space.
Timeless Elegance: The Beauty of Natural Wood Grain
One of the most compelling aspects of solid wood bathroom furniture lies in the inherent beauty of its natural grain patterns. Each piece showcases a unique, intricate design that cannot be replicated, making every item a true work of art. Whether you opt for the smooth elegance of maple, the rich hues of walnut, or the rustic charm of oak, the organic allure of wood grain exudes an air of sophistication and refinement, elevating your bathroom to new levels of luxury.
Durability for Generations: Investing in Longevity
In a society that increasingly values disposable products, solid wood bathroom furniture stands as a testament to durability and lasting value. When properly cared for, these pieces can endure for generations, retaining their allure and structural integrity. The high-quality craftsmanship and robust nature of solid wood ensure that your investment will not only withstand the test of time but also grow more captivating with age. By choosing solid wood, you not only make a style statement but also an investment in long-lasting elegance.
Versatility in Design: Adapting to Your Style
2023's newest solid wood bathroom furniture presents a wide array of design styles to cater to diverse tastes and preferences. Whether your aesthetic leans toward modern minimalism, bohemian chic, or classic traditionalism, there is a solid wood piece to complement your vision. From sleek, floating vanities with clean lines to intricately carved cabinets that exude old-world charm, these furnishings seamlessly integrate into any bathroom design, giving you the freedom to curate a space that reflects your personality and style.
Creating a Spa-like Sanctuary: The Relaxation Oasis
By incorporating solid wood bathroom furniture into your space, you can effortlessly transform an ordinary bathroom into a serene spa-like sanctuary. The natural warmth of wood induces a feeling of tranquility, promoting relaxation and rejuvenation in your daily routine. Paired with soft, earth-toned accessories and plush towels, these wooden fixtures create an inviting atmosphere where you can unwind
and escape the stresses of the outside world.
As we embrace sustainable living and the timeless allure of natural materials, solid wood bathroom furniture emerges as a prominent trend in 2023. Its eco-friendly nature, unparalleled beauty, and long-lasting durability make it a compelling choice for those seeking to elevate their bathroom spaces. From sleek and modern designs to intricately carved classics, the versatility of solid wood allows it to seamlessly blend into any design scheme, offering a myriad of options to suit individual styles. Embrace the charm of natural wood grain and invest in bathroom fixtures that will not only stand the test of time but also infuse your space with an unparalleled sense of elegance and tranquility. Welcome the allure of 2023's newest solid wood bathroom furniture and create your very own sanctuary within the confines of your home.